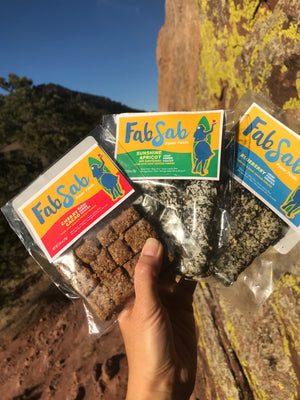 FabSab
FabSab POWER FOODS & SNACKS
FabSab
FabSab Power Foods & Snacks
Fabulous KAHAU POWER SNACKS jet-fueled with organic, gluten-free CRICKET PROTEIN POWDER 🌿 ☀️ from Entomo Farms
Our vegan HEMP POWER SNACKS are plant-fueled with U.S. grown 90% hemp protein from Evo Hemp 🍀
* RAW FOOD ENERGY 🌿🌰🌱☀️🌱🍒 🍑 🍒 🍑
* ORGANIC Fruit - mostly from California Farmers- Represent!
Making FabSab POWER SNACKS for Boulder & Denver community since 2015.
Available soon for the holidays in sunny California!
Celebrating Fabulous Food & this Fabulous Life. 
Enjoy! Mahalo, FabSab
* California shipping only through online orders at this time
* Free delivery in Los Angeles
* Custom orders available
Testimonials
The perfect balance of fruit for energy and protein to sustain it.

Andrew Walker - Runner with Diabetes & Co-owner of 7000 Running Feet Co., Salida, CO
FabSab Power Snacks satisfied my hunger after a long hike, for the long drive home.

Liz Bauer - Salida, Colorado
"To Save the World"
We're all about sustainable protein & foods while empowering people & community.
All of FabSab Power Snacks use organic fruit, with raw food energy- not baked, & are a part of a sustainable superfood hemp & edible insect movement tranforming the way we eat.
Our Vision: To make eating Edible Insects the new world-wide norm and popularize the usage of the hemp plant while helping organizations that help empower others.
Our Mission: Creating yummy snacks & meals that normalizes eating edible insects and empowers people with the hemp plant while contributing to causes that makes this a safer, healthier world.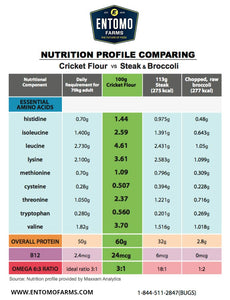 Why Edible Insects? Why Hemp?
> Edible Insects is the Environmentally Friendly & Yummy Solution for Food, Protein, & Nutrition for a growing global population of people, pets, and livestock.
Learn more: https://entomofarms.com/
> Hemp is the superfoods crop bringing a better income for farmers.
Learn more: https://evohemp.com/